Coming and Going
I forget that I have a memory problem. My wife and I recently took a two-week trip, perhaps our first ever…I don't remember. I had checked the long-term weather forecast about a month before our trip and was delighted to learn we would enjoy the first warm week of the year on the Gulf. I forgot to check the forecast again later, before I packed shorts and t-shirts. I didn't take a jacket. Here's the good news: it was too cold and rainy that first week to go outside anyway, and we'd been moved into a big house near the one we had reserved, thanks to a sewer problem in the first house.
The temperature warmed up to sweater weather by the second week, and even warmer two days before we departed for home. I walked on the beach at my preferred times, sunrise and sunset. I wore blue jeans, layers of undershirts beneath a corduroy shirt, and my Red Sox cap.
It was my dog's first beach trip. He is still confused, one week later, about where we live and why the ocean is no longer close to our house. Wilson, our beach boy, made friends and chased girls. Nearby residents with dogs remembered his name, and I tried to remember names of their pets.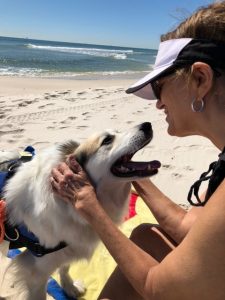 Wilson got away from me only once. Unleashed in a test of his loyalty and maturity, my two-year-old pyrenees-beagle chased a sea gull and then ran like a coyote to visit a family about two hundred yards from where he left me. I ran as fast as a man on Medicare can to rescue that family from my disloyal dependent. The family liked him. He was playful with their two small dogs and unsuccessful in his effort to eat their food.
I'm less ADHD-impaired on vacations than at home. I packed well and put away all my clothes and travel items upon arrival. I swept sand from the deck and interior wood floors, cooked my share of meals, and washed dishes daily. I stored grooming and hygiene items in drawers and arranged my hang-up clothes in a closet larger than any we have at home.
I loaded the car for our return home while my wife conducted her usual last-minute inspection of our rental house. She exited with a hair dryer I'd left on the bathroom counter, but she overlooked one drawer. The item I miss the most was a recent purchase. I had bought a nose-and-ear hair trimmer to trim the only hair that grows fast at this stage of my life. I'm less concerned about the easily replaceable comb, shampoo, and floss. Who remembers to floss anyway?
If you have ADHD, you have some memory stories too. Do you remember any of them?
5 Responses to Coming and Going